Testimonials - What others think of my services:
Kris Freeman, Smart Bowen Therapist, Dip. Applied Myoskeletal Therapist, TMJ Specialist, Dorn Spinal Therapy Practitioner,

OldPain2Go®

Practitioner, BWRT® Practitioner,

Qigong

Practitioner

, and Certified Hand Analyst (soul psychology).
painfree@krisfreeman.com.au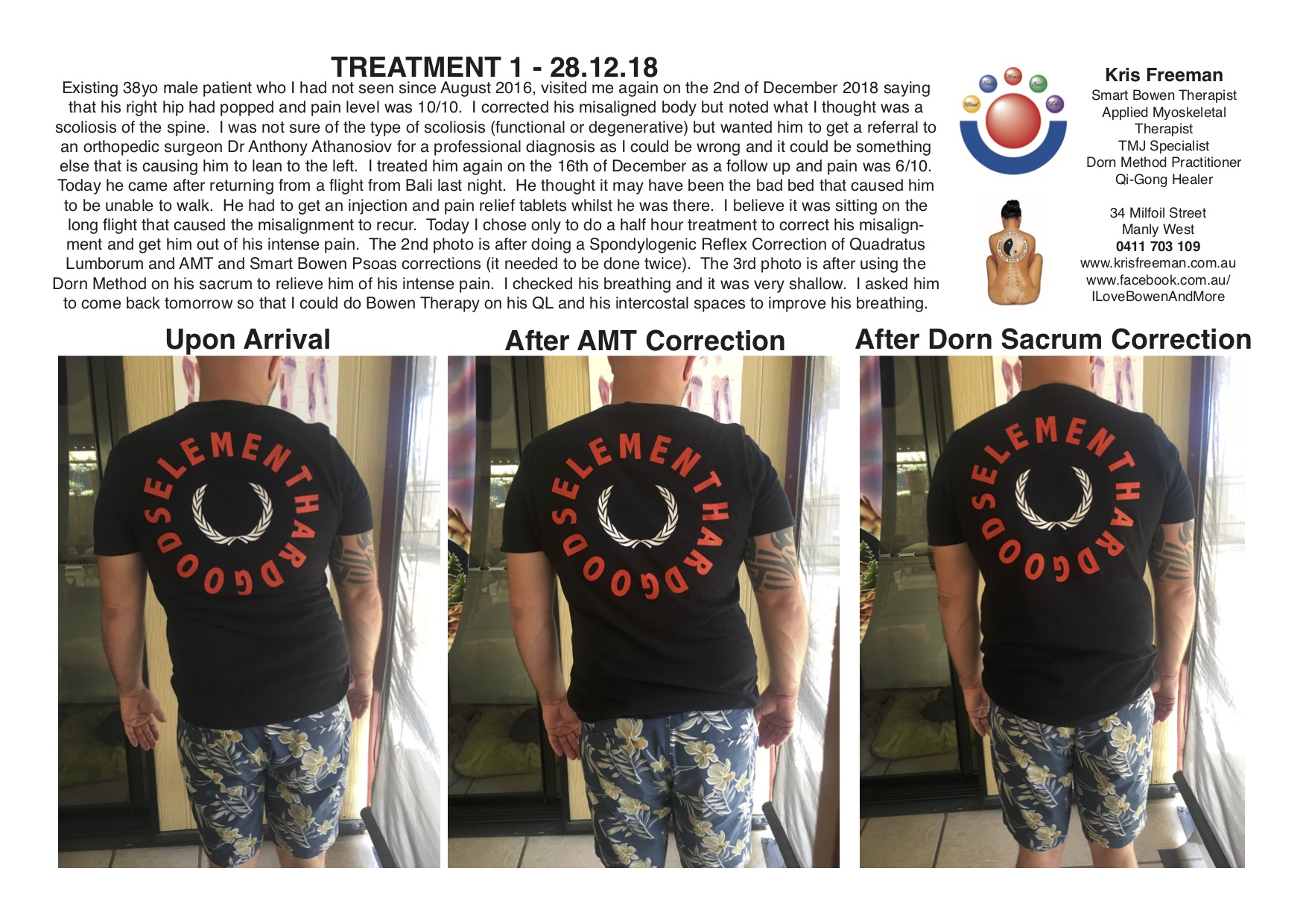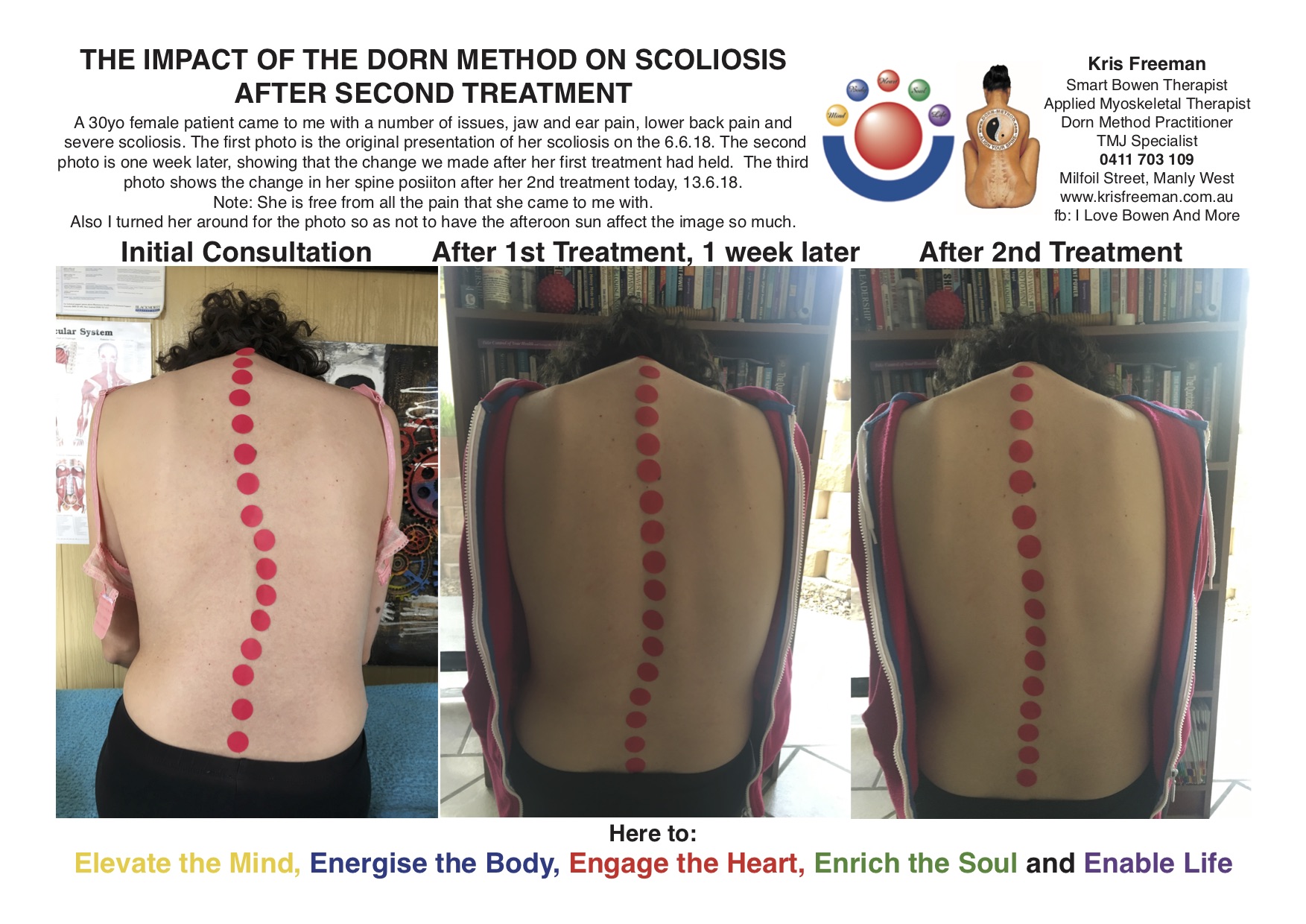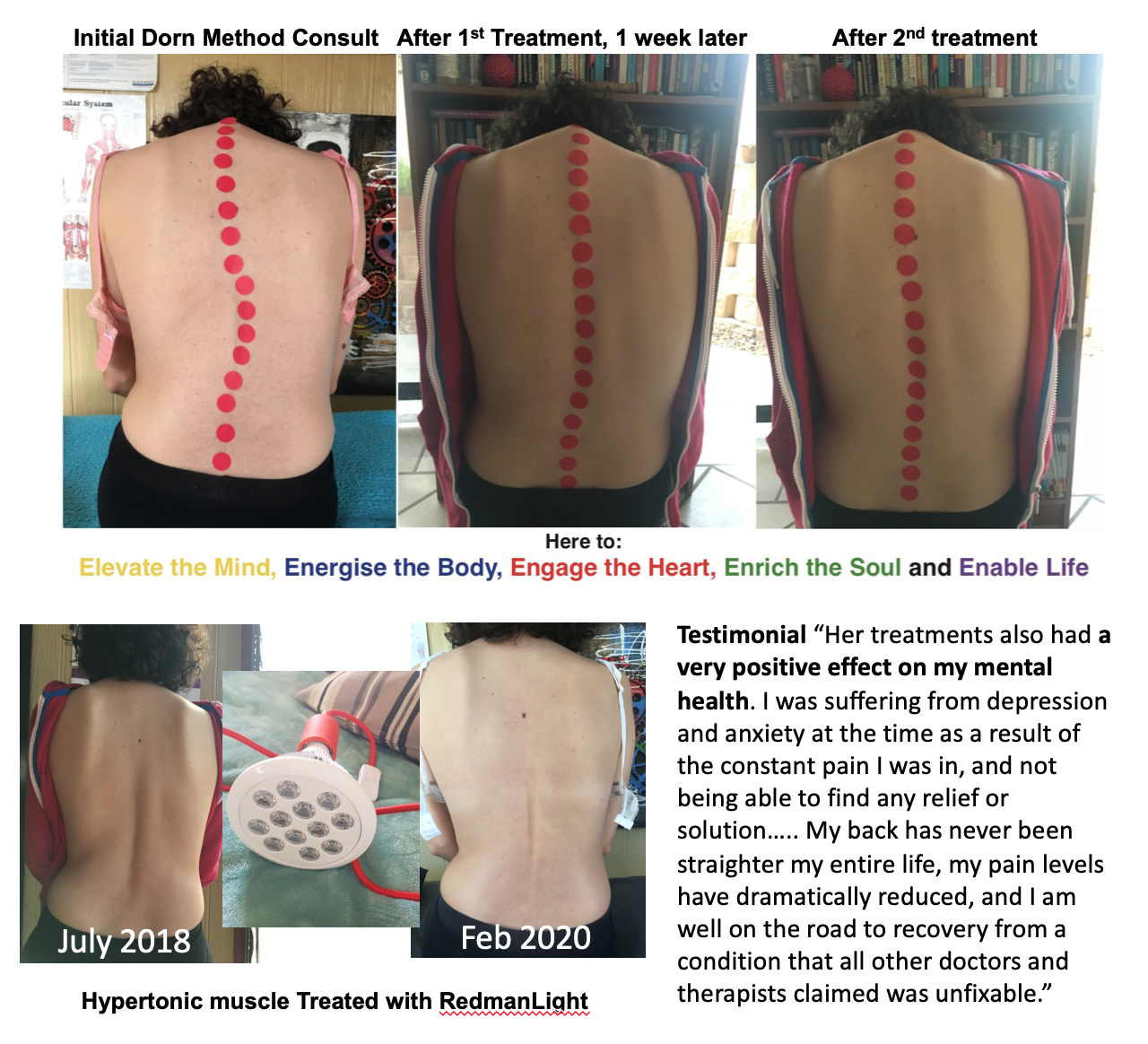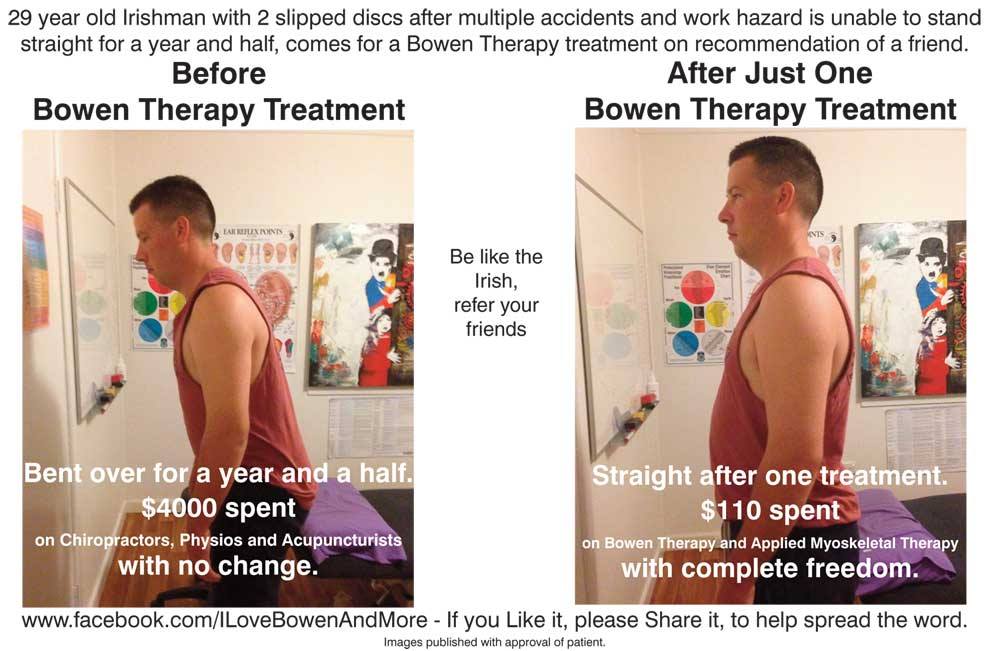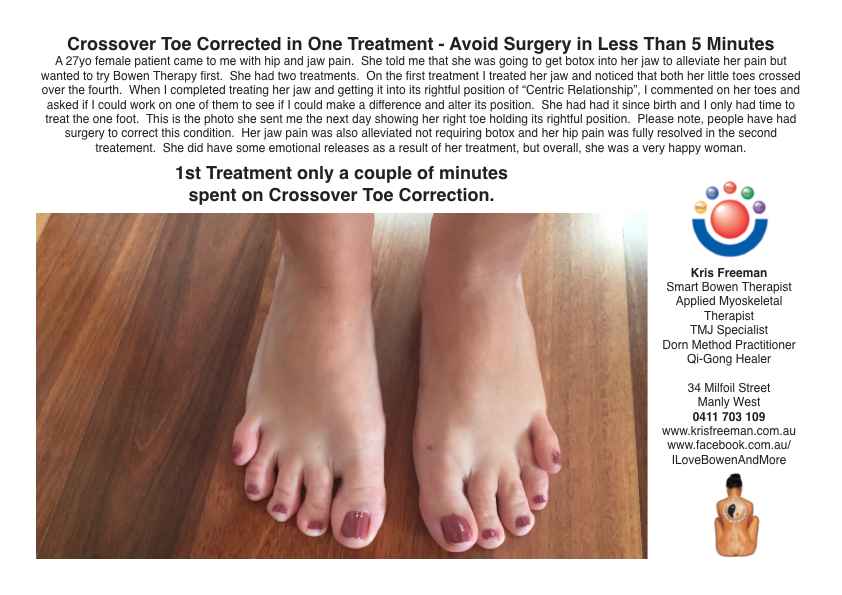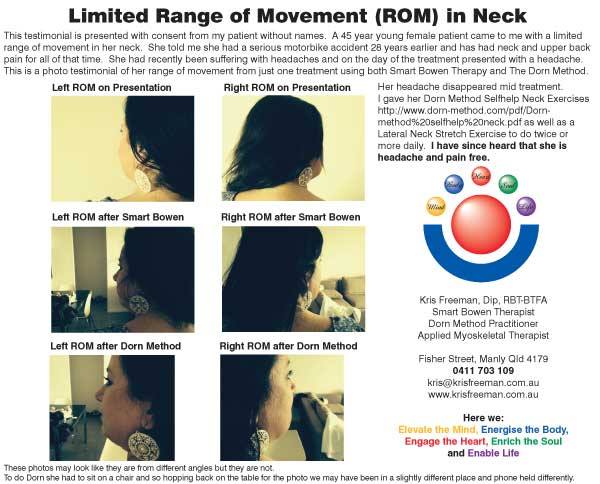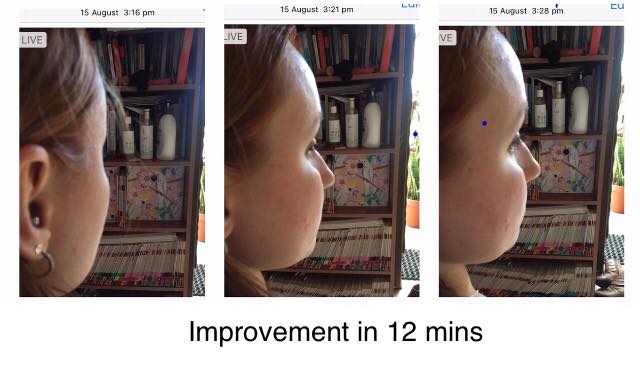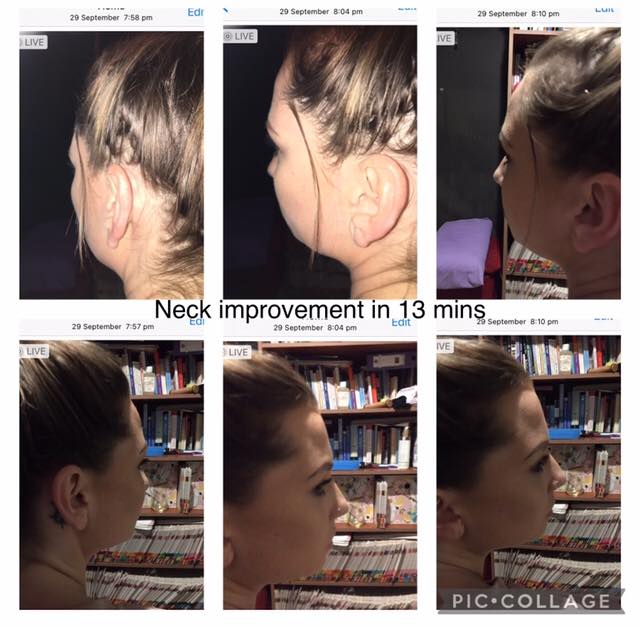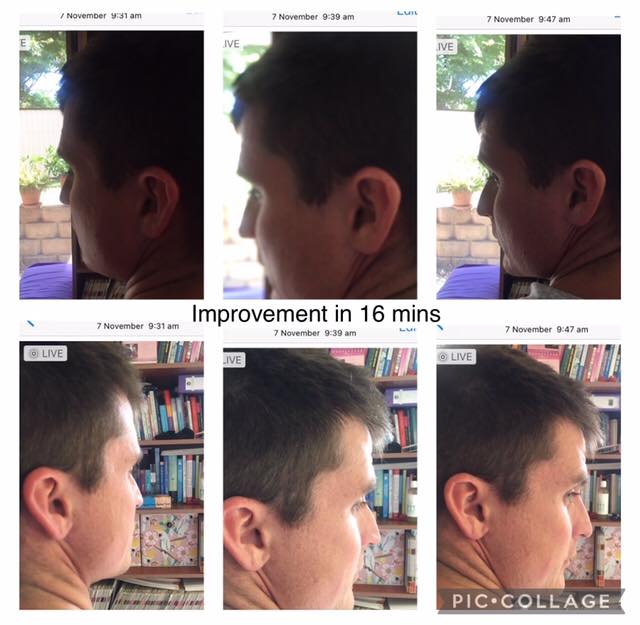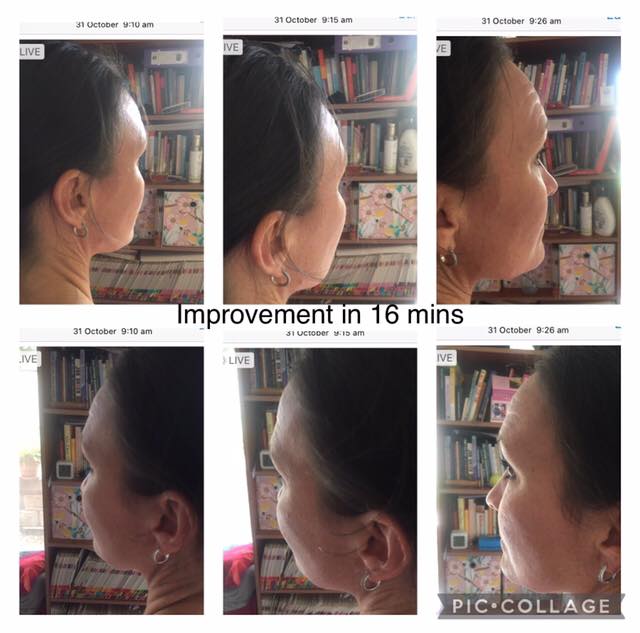 Note bottom and top incisors do not line up in the before photo, after a PASC Cranial Considerations TMJ Treatment Incisors perfectly line up because the jaw in now in its optimal functional position of "Centric Relation""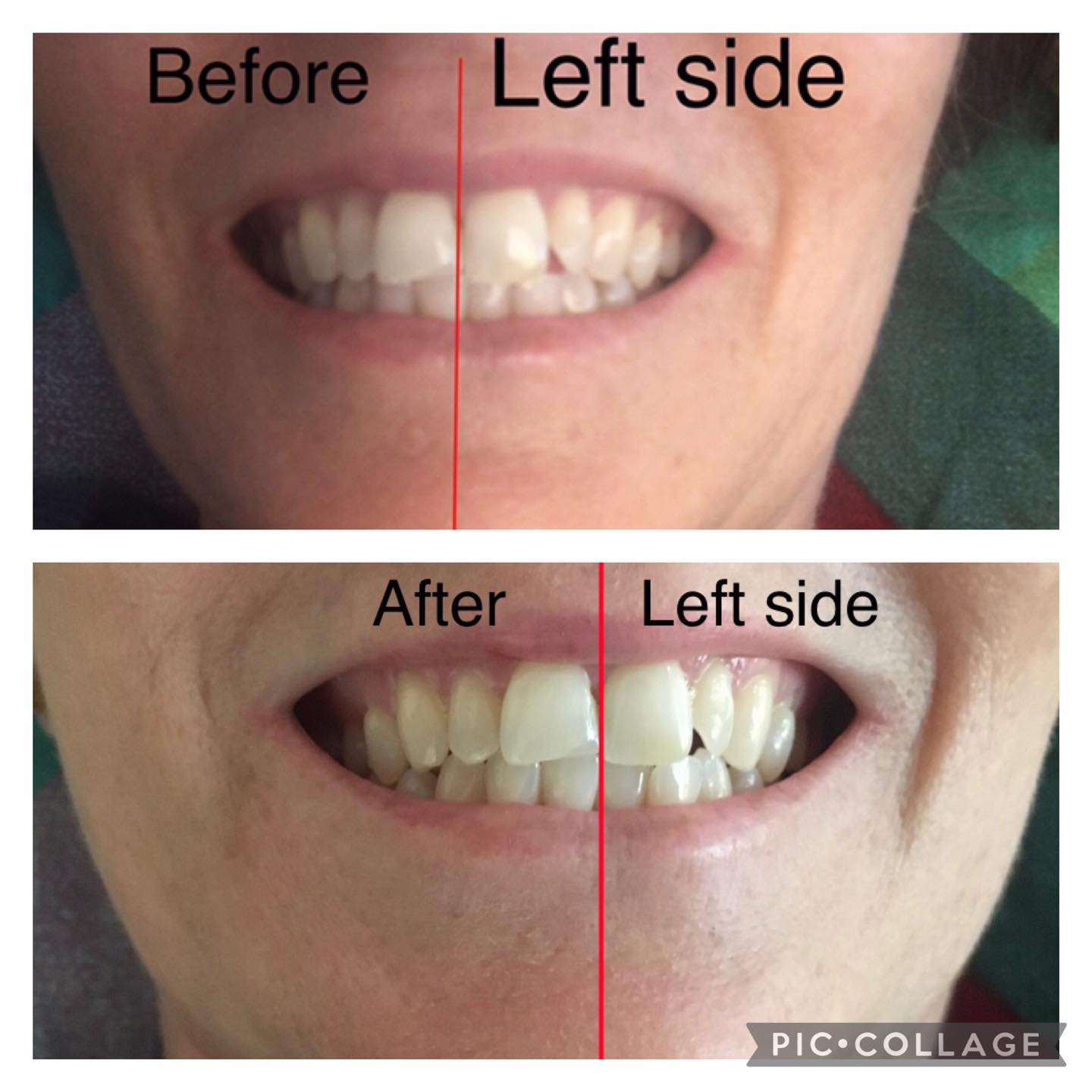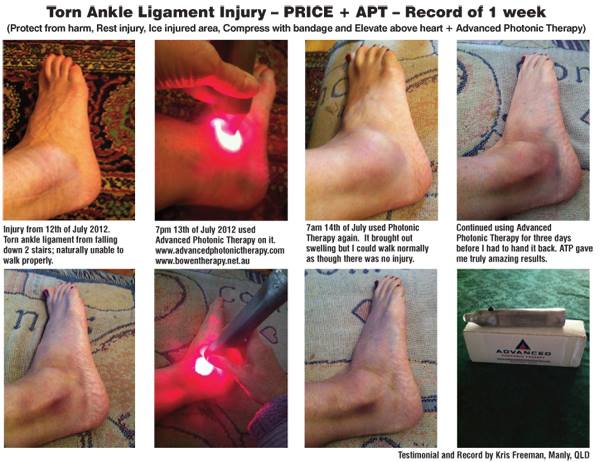 TMJ Disorder, Eye Styes and Severe Scoliosis
"When I met Kris, I had been suffering from debilitating chronic pains related to my thoracic scoliosis and TMJ for over 10 years. I had been to well over a dozen different types of practitioners including physiotherapists, chiropractors and massage therapists, but had experienced very little relief and improvement. Kris really took the time to consider my unique set of problems and used a combination of various healing techniques to treat me. Kris's application of Bowen Therapy Techniques coupled with Dorn Spinal Therapy really helped reduce my chronic pains, balance and straighten my body up. Her treatments also had a very positive effect on my mental health. I was suffering from depression and anxiety at the time as a result of the constant pain I was in, and not being able to find any relief or solution. Experiencing deep relaxation and feeling the changes in my body after each treatment really helped me move forward and heal. My back has never been straighter my entire life, my pain levels have dramatically reduced, and I am well on the road to recovery from a condition that all other doctors and therapists claimed was unfixable.
Thank you, Kris, for all your help and amazing treatments xx" - Ann P.
2 Herniated Discs at L3/L4 and L5/S1 with Mild Scoliosis and a Straight Neck
A new 35 year old male patient traveled from Sydney specifically to see me on recommendation by a friend who had seen me. He had been in pain for the last 4-5 years with the last 4 months being in extreme pain. Nothing he had tried had helped. His body was in misalignment. His left pelvis was superior (higher) as was his left PSIS. His right glute was locked. His right ASIS was superior and he had a right leg length discrepancy of 2.5mm. His left Psoas was contracted and he had an upslip. As he had travelled so far I spent much longer with him educating him on the things he needed to do to support and strengthen his body in particular his core strength. He traveled to see me again the following week to iron out some niggling issues that returned. I then found a colleague in his area for ongoing treatment if needed (I had recommended that prior to his second treatment but he wanted to travel to see me).
"Hi Kris, it's Narender here. I'm really happy to tell you that I'm out of that hell of pain with your therapy. You really did a magic to me. I didn't have any pain since last night till now. I'm feeling amazing. I wanna say a great thankyou for this cure. I just wanna request to u appointment Sunday morning before leaving for Sydney. I'll be thankful to you if it's possible for you. Thank you." Narender, Sydney.
Sciatica
A new 47 year old male patient traveled an hour from Deception Bay to see me. He had been suffering with sciatic pain for 6 months and the last 5 weeks he was at his worst reducing his ability to work. As he walked up my stairs and into my clinic I could see he was in a bad way. On assessment his right pelvis and PSIS was superior (higher), his right sacrum was locked, he had a left leg length discrepancy of 10mm, and his left coccyx was inferior (lower). His leg length was challenging to correct. He told me that he had been to the chiropractor at least 15 times and had over 20 massages with very little change being felt. With one treatment this is his response:
"Dear Kris, I feel good. Wednesday woke up and felt like a truck hit me. I fell asleep from 11.30 to 3.30 and felt a lot better and it keeps improving. Sciatic pain has all but gone so much so that I bounded up the stairs without even realising. I have pain in my left side now from above my hip to my rib cage no way near as bad as my sciatic was. So I am very pleased with the results. I would like to have another appointment with you as soon as possible. Thanks R"
I treated him again on Monday and he told me he failed to do my recommended exercises as he gets up at 4.30am to go to work. Naturally his body was all out of alignment again. But this time I also noticed that he had a right upslip (femur stuck in ischium too far) which I corrected. His leg length corrected easily and I gave him new exercises to do which he promised he would. I also observed other things within his body such as contracted hamstrings which I told him I could free through his jaw. This patient was so excited by Bowen Therapy he now wants to learn it.
Sciatica
"I had sciatic pain for 17 years! I tried massage, physio, acupuncture, and also Bowen. All with short term relief. Eventually I met Kris. 3 treatments over 1 month and no more sciatica. That was almost 5 years ago. If I get a twinge I go back for an adjustment and done. Thanks Kris. Should also mention: kind, caring and compassionate." - Mel C, Pimpama.
Migraines and Sciatica
"At the age of 15, I was involved in a workplace accident that led to me experiencing back pain caused by a bulging disc, as well as stenosis and sciatica in my left leg, thay would generally come on after sitting or driving in excess of an hour at a time. It also caused frequent chronic headaches and migraines that were often debilitating. After my very first session, within a matter of hours, I felt so much better. But I ultimately realised just how much of an affect the Bowen session had on me when I drove over an hour and didn't have to stop once because of sciatic pains or numbness. I have not since experienced any sciatic pain, headaches or even migraines, and I'm so incredibly grateful for the work Kris provided me with.
I have also made the dietary changes to Paleo, as I discussed with Kris, which has also been hugely beneficial. For me, Kris fixed what no chiropractor, physiotherapist or doctor was able to fix out of multiple treatments, and she has done a majority of the work in just one session. Thank you just isn't enough!" - Bonnie P, Boronia Heights
Lower Back Pain and Sciatica
This 57 year old female patient walked in with a walking stick barely able to walk up my stairs and walked out with the walking stick under her arm.
"To Kris. Thank you very much for all your help. You do amazing work. This is just a little gift for your room, to help you. From Shirley xxx"
Lower Back Pain and Sciatica
"I had been experiencing chronic and debilitating back pain with sciatic pain down my leg for more than 6 months. In two sessions with Kis she freed me from this chronic pain and allowed my body to realign and begin to heal - my pelvis was twisted and I had one leg shorter than the other (which I did not know until I met Kris). I can now drive and sleep without chronic pain - what a relief to be able to enjoy my day without pain. Kris is a talented and caring therapist who I would recommend to anyone seeking a gentle yet effective way to become pain free." - D, Ipswich.
Limited Neck Range of Motion with Nerve Pain
"I have suffered with a real bad pain in my neck which started to shoot incredible pain into the back of my head which felt like it was going to burst, which I was taking panadol for, hoping it would go away. Then the pain started to go straight into my left shoulder blade. After a few wks and my neck becoming extremely stiff and my pain still there, I took my self to the drs. Who did test, and it came back that I have 3 pinched nerves from tilted discs in my neck. The Dr recommended I go to physio, which I did but didn't do much beside loosen my muscles a little. But the pain didn't go. I was recommended to see Kris Freeman of I love Bowen and More. I went to see Kris, who is very caring, understanding and knows her stuff. And she loves doing want she does for sure. She did work on my body, which with one treatment, I did feel relief from pain and stiff neck was almost gone. I followed up with 3 apts for 3 wks and Kris with her therapy that she did, I felt so much better. She gave me stretches to do at home, which continues the Bowen therapy at home. I have had 4 apts with Kris and I'm 99% pain free. If I went a few more times (if I made the time) I'd be 100% pain free for sure. I do highly recommend Kris Freeman for anyone with any sort of pain." - Kyle Milianis, Jimboomba
Daily Headache and Neck Pain
40 year old new female patient came to me in October with daily headaches which she had for 3 weeks with pain on the left side of her neck. She was waking up with the headaches. Pain level was a 5. I chose to do her TMJ only. This patient's body was structurally out of alignment. Her right Pelvis and PSIS was superior (higher), her left sacrum was locked a little, her left ASIS was superior and she had a left leg length discrepancy of 7mm. Her coccyx was inferior on the right. She had a class 1 malocclusion (overbite) with her lower jaw falling to the left. All of the above (except the coccyx which I worked on using AMT) was corrected with me only working on her jaw using Ron Phelan's work.
"Hi Kris, The pain on the left side of my neck and associated headaches have completely gone thank you very much
:) this happened a few days after treatment..........I was thinking of seeing a physio, but I wanted to see you first. ....... If there is any chance you could fit me in tomorrow morning that would be great......"
Frozen Shoulder
"I had a right shoulder injury and spent the last two years in a lot of pain. Consequently the movement in my right shoulder was severely restricted. I saw GPs, had injections and spent vast amounts of time and money on Physio visits but with limited success.
Luckily for me one day I was told about Bowen Therapy and that Kris Freeman practiced the therapy. With nothing to lose I thought that I would give it a go, and I am so pleased that I did! Unbelievably, after the first visit I had incredible results!
There was a relief of tension and pain in the shoulder and also more movement was noticeable. Subsequent visits have increased my shoulder movement to near pre injury status and I now sleep pain free!
Bowen therapy is relatively painless and is fantastic for all sorts of injuries, and is ideal for all age groups. I have seen Kris to have various other injuries sorted out which has enabled me to continue with my sporting pursuits! Give it a go as Bowen Therapy and Kris Freeman have been a revelation in my life!" - Neale H, Wellington Point
Vertigo
"I went to have Bowen Therapy with Kris to treat a lower back injury. While I was there being treated, I mentioned that I had vertigo for 3 months which stopped me from playing golf. I told her my heart was broken and honestly I didn't believe her when she told me we would set a goal to get me back on the golf course. I am still amazed that only after 2 treatments my vertigo is gone!" - Jack B, Wynnum West
Encopresis
"My 6 year old son had a serious condition called Encopresis which saw him soiling his pants up to 4 times a day. From the very first appointment we saw improvements in our son. Kris pre-empted that he would not be happy to see her and so she had a gift of a cute calendar and sticker book for him to choose from to encourage him to drink more water. By the second treatment he was completely clean. We can't speak highly enough of our experience." - Name and Suburb Withheld
Constipation
"Massive thank you to Kris for all her help with my 3 year old Ben. He has had chronic constipation since a baby and since stopping nappies. Around 8 months ago, he would only go to the toilet once a week which in turn was horrendous and in agony and took 45mins- 1 hr for him to go.

I took him to see Kris last month, since treating Ben 3 times, he went for pooing once a week, to twice, three times and now 5 times a week with ease and no discomfort, screaming, bleeding etc

Kris made it easy, she's very approachable, rewarded Ben with stickers / and a little treat.
He had complete trust in her to treat and make him feel better : relax.

He still takes about "Dr Kris and Vegemite".

Thank you for your help Kris." - Amanda D, Manly West
Baby's Flat Spot
"I saw Kris with my 4 month old son. He had a painful neck that prevented him from moving to one side properly and resulted in an uncomfortable bub and a flat spot. After a short session with Kris, he now looks from side to side with ease, he is happier and so much more interactive. I have never felt so overjoyed by the abilities of one person! The change in my son makes me so happy and it's all thanks to you :) " - Sarah Jane Blackaby
Arm Pain and Anxiety
"I want everyone to know how great Bowen Therapy is.
I have been suffering with sore arms for the last 3 years. I thought it was arthritis and then when my Mum found out she had a genetic arm condition where she has a longer ulna and needed surgery, I thought maybe I had that. At any rate, I was certain the pain was never going to go.
Then I came to see Kris. I had never heard of Bowen Therapy before, but now I can't speak highly enough of it.
The pain in my arms is gone. After the 1st treatment I felt very relaxed, after the 2nd treatment I began to sleep better, after the 3rd treatment my arms were starting to feel better, by the 4th they were feeling great and after the 5th, I was feeling the best I have ever felt and had no arm pain at all.
Being a single Dad of 2 young children, Bowen Therapy is also helping me relieve my anxiety and stress levels. I feel so good after each treatment. Thanks so much." - Daniel F, Wynnum North
Incapacitating Shoulder Pain
"I had developed pain in my left shoulder which had progressivley become more debilitating over the last few months. I think it was originally damage done in the gym - probably dumbell shoulder raises. It was then possibly compounded by archery.
It reached the point where I had restricted movement and fairly constant discomfort in the shoulder. The pain often kept me awake for hours at night.
By the time I saw Kris I had rested the shoulder as much as possible for four weeks, ceased archery and all exercise, but with minimal improvement. I was beginning to wonder if this was a long term injury and the prospect was a concern as being active is as important for me mentally as physically.
So it was a great relief when I called to hear Kris say she'd had a lot of success with shoulder injuries. At the first session I could barely move my arm to 45 degrees above horizontal - even then it was quite painful. By the end of the session the movement in the shoulder had improved.
I certainly felt Kris follow well structured patterns in the manipulations during the sessions and her professionalism, confidence and enthusiasm helped me go with the flow and obviously made me receptive to the process - I was so comfortable I actually fell asleep while she was working on my back.
I took her advice and did lots of walking over the next week and the shoulder stretches several times a day. Towards the end of the week I could definitely feel a lot of improvement but still some residual pain.
By the second session I could almost raise my arm vertical with minimal discomfort.
Since the second session about two weeks ago I have gone back to archery a couple of nights a week and have slowly increased up to a sixty arrows per session - my goal over the next month is to build back up to 100 per session.
Last week I decided to try swimming again as it would be a good test for the shoulder and swam 30 laps with only general soreness afterwards. I can now also do push-ups again - previously my shoulder couldn't hold my weight.
So both physically and mentally I am in a much different place than four weeks ago and am quite surprised at the improvement in such a short time.
I have always had tightness and restricted rotation in my neck which I thought was normal until Kris picked up on it and it was reassuring to hear that she could address that more in another session.
So in short, I am truly grateful to Kris and the Bowen process and have already begun recommending her particularly to archery club members as shoulder injuries are very common in the sport." - Paul B, Birkdale
Severe headaches, neck and shoulder pain
"My name is Debbie and I was fortunate to be referred to Kris and had a wonderful treatment... last Thursday 25th July 2013. I presented with severe headaches, severe neck and shoulder pain, and feeling very stressed. Kris was very thorough in her questioning and subsequent moves required to attend to my many issues. After an initial lengthy treatment I left feeling vey light-headed and a bit spaced out. I felt marvellous. My pain had immediately lessened to the point of not being existent. Previously I couldn't get dressed without my shoulder hurting and sleeping was difficult. I have previously tried to get relief from a different form of Bowen and from acupuncture but was not successful. I would highly recommend Kris to anyone for any type of ailment." - Debbie T, Tingalpa
Symphysis Pubis Dysfunction
"Hello Kris, Thank you so much for the information and your kind words. It is my absolute pleasure to connect with you again and share time experiencing your wonderful energy and expertise. I feel very privileged to have this connection with you. Like Heidi, you have facilitated my health and my journey in life in incredible, and even miraculous ways and I thank you again for being so willing to share your knowledge.
You are a Blessing and a beacon of hope in the world.
Thank you, with love Carol S"
Jaw Pain Referring to Left Shoulder and Left Temple - Pregnant Patient
11.22am: "Hi Kris, by the time I got home and out of the car my throat had flared up like razor blades! Yay! I'm not surprised, throat is from not speaking up. So I'm happy that its shifting. Thank you xx"
3.49pm: "Hi Kris, I've been fine. No panadeine forte needed! My jaw is a little tense but no pain. The tension headache is gone and neck/shoulder pain completely gone. Massive turnaround in a couple of hrs! The sore throat lifted after 40 mins! U r a miracle worker xx. PS Seriously my dr prescribed panadeine forte and rest!!!! I love bowen. I wish everybody knew about it." - Mel C, Lota
Lower Back Spasm
"Hello Kris, Just wanted to let you know that you did an awesome job on my back problem and you made me feel really comfortable and relaxed. I haven't had any more problems with my back at all since, and I would like to thank you very much for that. I don't usually get back pain but when I do, it's terrible, and you really fixed the pain. So once again, thank you very much and I will definitely like to book in again as I have had ongoing trouble with my neck for years as you saw when you examined my shoulders, so if you have a next available date on a Monday, that would be great.
Thank you very much again Kris and I would highly recommend you to anyone." From a Muay Thai Instructor after just one treatment.
Whole Body Pain Unable to Sleep
"Good morning. I transferred the consulting fees for the first meeting and I really hope to see u on Thursday and expect some amazing results just like the first one. I can not put it in words except Magical and phenomenal. It feels like you have turned on my get well soon switch. I just hope it keeps getting better and doesn't go down hill as it has in previous years form those Chiro and Physio. My pain has dropped so dramatically and I have had 3 days of blissful sleep." - Patient who had been hit by a car a year earlier.
Torn Fasciitis Ligament
"I have been getting Bowen done for over 20yrs now and it really works for me, I visit K when I need treatment as working in child care puts a lot of strain on the body, I also suffer from plantar fasciitis in my left foot. I visited K on Friday and she put some KT tape on it, well it worked wonders really fast. I took my dog for a walk that night and hardly had any pain just a little niggle, then I had an accident and fell/ tripped up some stairs at a park in the dark. Well my left foot felt like it ripped in half, the pain was 10/10. When I finally made it home I iced it for one hour but kept the KT tape on,. The next morning I went to the dr's and he said that I had torn that fasciitis ligament, so just rest and ice it, So I did and also hired crutches from the chemist. I still left the tape on to help support the injury. By Sunday I could walk around the house without the crutches. Then today Monday I could walk around the shops unaided for a little while. I visited K this arvo and she re-taped it but differently due to the Tear. This KT tape is magic. I can walk with no support from crutches. It is healing my foot really fast. I still shouldn't be able to walk but with this KT tape I can move around again. I thought it would be weeks before I could walk properly but it has only been 3days. I am just so amazed at how quick I'm healing. Thank you so much K for all your help in my speedy recovery and thanks to KT tape." - Kerri G-B, Gumdale
Painful Knee and Bulging Discs in Back
"HIGHLY RECOMMENED!!! I first went to Kris due to a painful knee not knowing what Bowen Therapy was. Within only 2 sessions my knee was no longer painful. Kris also worked on my back as it causes me pain every now and then. I have 3 bulging disks and degeneration and after 3 or 4 treatments I was pain free. I will be going back shortly as back is playing up again. If you are in any kind of pain, go and see Kris, you'll be surprised.......and pain free!" - Sonja B, Birkdale
Fibromyalgia
"Well what can I say I love it , it works and it keeps me out of a wheel chair. If you have any problem small or big give it a go .
:))" - Debra OH, Wynnum
Vertigo and Jaw Tension - Meneiere's Disease
This testimonial is from my husband so it is a little biased but still the truth and from his heart:
"Kris and Bowen rescued me last Friday. Throughout the week, I could feel my head working up to a vertigo attack. My jaw, neck and upper back were so tense my head couldn't function properly, well function in my world. On Friday, Kris worked on my upper back, neck and head. During the treatment, I got emotional due to the release Kris got from my tension in the muscles. On Saturday, I could feel the build up of tension release as the day went on. On Sunday, I went for a ride feeling well and through the day. I can now face the world. Bowen is great but it needs a skilled practitioner to administer it and Hon you are one fine practitioner. Much love xxxxx"
Relationship Trauma - BWRT
"Hi Kris, Thanks for your text today - I appreciate you checking in. I went to text you back but it was too hard to type all this onto my little phone!! :) I really am doing great, thank you. I had a completely unscrcipted opportunity to see just how well I am doing in action yesterday, actually. After dropping my car in to be serviced yesterday, I saw my ex walking along the street that runs adjacent to mine. I was lucky enough to see him from the safety of the back seat of an Uber and completely unrecognisable with a face mask on. Previously, even though incredibly safe, this type of interaction would have brought on the intense feelings of fear and panic - constriction in my chest, disoriented and lack of focus etc. But yesterday, I saw him, I noticed him, and I was able to stay in the moment. Honestly, I can't thank you enough. I very much understand that this doesn't undo anything that happened in the past, nor does it make me any less vigilant about my safety or wellbeing (I still came home and made sure my house was secure and my phone on hand) but it has so so so much helped me stop reliving those feelings, it has allowed me to think more clearly, feel my feelings without getting completely overwhelmed and recognise that what was in the past, is in the past. ..... I suspect there may be more things that come up. But for now, I am feeling comfortable and confident and happy again, it is like the fear of being triggered has gone and I can think more clearly in the present. Thank you :) Will be in touch again soon, no doubt. All the best. R"